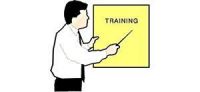 ---
TRAINING

Objective
Training mechanics, line operators and service personnel with attention to "train the trainer" programs, documentation, grading and sign-off procedures.

Application
This section applies mainly to manufacturing plants with production lines.
Technical Partners (TP) offers to set up training programs to suit a specific line or operation in a manufacturing plant, or operation in a commercial establishment.
These services are aimed at ensuring that only qualified and knowledgeable people operate equipment and run production lines.

Background
Normal training programs offered by equipment suppliers, especially during the introduction of new equipment, will cover training that will explain the use of the equipment for only one or two products.
Experience has shown that when this trainer has completed the training program and asked the trainees 'do you understand" – most will answer "yes", because few people want to admit that they didn't catch on. They hope that in due course they will "figure it out".
When the trainer leaves, the line's people are left to fend for themselves. This usually results in unexpected down-times, long change-over times and inefficiencies.
We have developed a training program to avoid this.
Some historical background – The development of this training program came about when Ed Kalvins was Plant Manager at Life Savers. An expensive, high speed wrapping machine had jammed. The mechanic who attempted to complete the repair badly misaligned the machine to the extent that it was irreparable causing extensive losses. Subsequent investigations showed the cause to be improper training, and that similar but less spectacular (and unreported) incidents had been taking place all the time. The mandate was to develop a training program to avoid repetition. Input was received from mechanics, electricians, operators, supervisors, QC personnel, engineers and specialists. The result was a training program based on real life and the one presented to our Clients.
Basic Principles of the Training Program
A trainer is trained who will be responsible to train other plant personnel
All functions applicable to the machine or all changes that can be made are identified.
All products and product characteristics (length, with, height, quantity, etc.) are identified.
All actions related to service (cleaning, changeovers) are identified.
A checklist is prepared which identifies every possible "function" applicable to the machine. (e.g. on a packaging machine, changing the height would be one function, changing the width would be another function)
The trainee first observes how to perform a function.
The trainee then does the function under supervision of the trainer.
The observations and doing the functions are repeated a number of times depending on their complexity.
There is a sign-off procedure which requires the trainer and the trainee to verify that a set of functions have been completed.
The checklist is set up in such a way that when a function is completed, the trainee is credited with completing that function. When all functions are complete, the trainee is considered to be 100% trained. This way the training progress can be measured.
Yes, it sounds complicated, but in reality, it is very simple
The checklist is modified according to the person it will apply to and become part of their training program, such as
line operators
line staff
mechanics
electricians
cleaning staff
This training program can be used as part of the employee compensation package and provides incentive to complete training programs.
---
Back